The following tips are for anyone hosting a RingCentral Meeting. We have another article here, RingCentral Meetings (Unified App)
Secure your meetings (Learn more)

Do not host open meetings. Restrict who gets in using one (or both) options:

Or use the Waiting Room feature and control the admittance of guests. (Turn this on in your account online.)

Do not share a link to a meeting on an unrestricted publicly available social media post. Provide the link directly to specific people.
Manage screen sharing options, by changing screen sharing to "Host Only."
Ensure users are using the updated version.
Ensure that your organization's telework policy or guide addresses requirements for physical and information security.

How can I hide myself during a meeting?
Hover over the image of yourself and in the right-hand corner click on the blue ellipsis button to see options. There are slightly different options depending on the View. On a related note, Pin Video is great when you want to primarily view or record a single participant.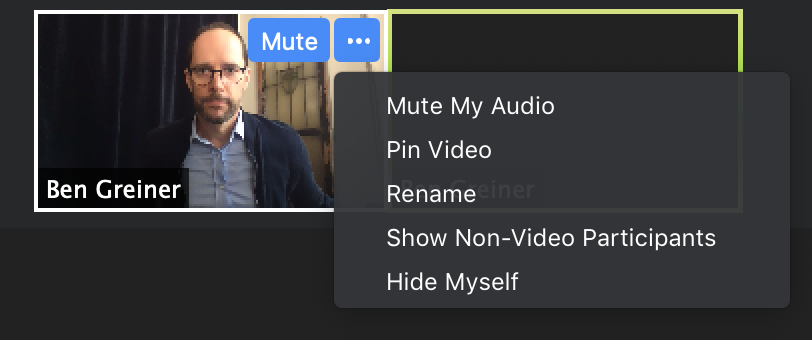 How can I invite a client who has a firewall that blocks RingCentral?
Try asking them to join via their browser at meetings.ringcentral.com.
NEW ... Share this URL for direct access to your meeting via a web browser (no app download required): https://meetings.ringcentral.com/wc/username/MEETINGNUMBER/join#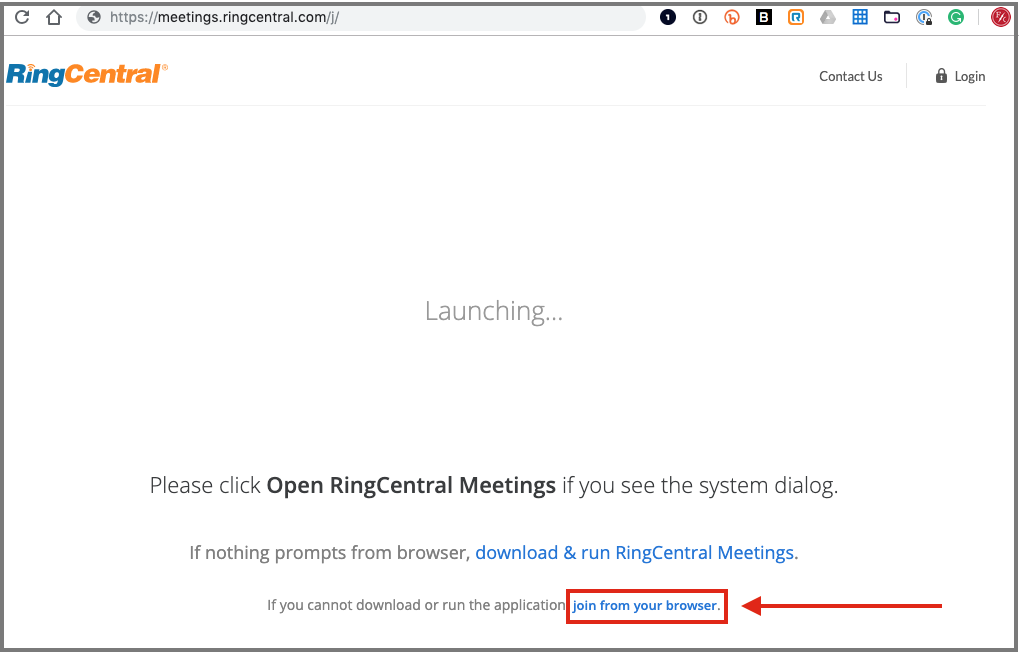 How can I avoid audio and video problems during a meeting?
Solutions like RingCentral Meetings (rebranded Zoom) has come a long way, but audio and video issues can sometimes ruin a meeting. If the tips below don't help reach out to your support team — that's us, if you're a client — to help improve the performance of your RingCentral Meetings.
Uncheck "Enable HD" in RingCentral Meetings > Preferences > Video > My Video.
Restart your computer before hosting or joining a meeting.
Close all other Apps
Enable Do Not Disturb on your Mac — and iPhone — to avoid notifications and incoming calls interrupting your meeting.
If an Ethernet connection is available, plug-in because a wired connection will often be more reliable and robust than a wireless connection.
Unplug extra displays. Asking an older or underpowered Mac to drive multiple displays while video recording and screen sharing might simply be more than the Mac can handle.
Avoid using Screen Mirroring or AirPlay while participating in a RingCentral Meeting.
How can I integrate RingCentral into Microsoft Office 365?
Check out our related article, RingCentral for Microsoft Office 365.
I'm having Audio problems. What can I do?
Audio problems are frustrating. The most common problems are no sound — coming or going — or sound that is too loud! Verify your Audio settings before each meeting in RingCentral Meetings > Preferences > Audio. The most common problems can be fixed by sliding the Output Volume and Input Volume levels up or down. There appears to be a bug in macOS whereby the Input Volume will default to the far left — muted! Always check this setting before each meeting. Ask your participants to do the same if you can't hear them.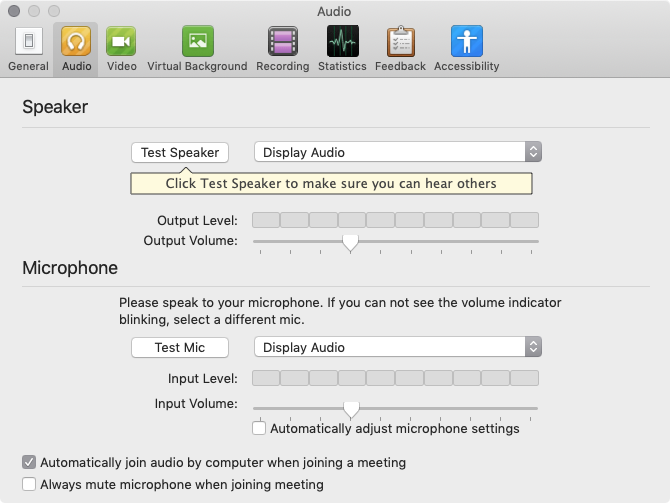 How can I schedule meetings for others on my team?
RingCentral Meetings have the option to allow other Users to schedule a meeting on your behalf. For example, as an Administrator/Manager, you can allow your secretary to schedule/organize meetings on your behalf. To use this feature, you must authorize another User first to schedule meetings for you. This can be done by logging into the RingCentral Online account. CAVEATS:
Currently, the new, unified RingCentral.app does not support scheduling for others.
How can I learn more about RingCentral?
Watch these training videos — for admins and users.
Your Meeting ID
When hosting a meeting you can use a randomly generated Meeting ID or your unchanging (unless you change it) Personal Meeting ID. We recommend using your Personal Meeting ID (with the Waiting Room feature to control who gets in.) The screenshot below is from the RingCentral desktop app for macOS: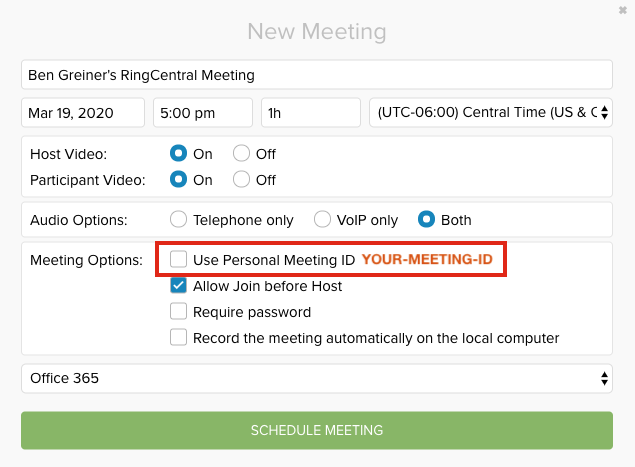 VIDEO - RingCentral Meetings: How to share content

Additional help can be found at https://support.ringcentral.com/