AUG 14, 2019 — Today many variations of this headline made the news: U.S. Air Regulators Ban MacBook Pros With Recalled Batteries From Flights. However, a more accurate story comes from The Verge: The FAA has banned recalled MacBook Pros from all flights — like any other bad battery (Not like they can easily tell the MacBooks apart, anyhow.)
Regardless, it's good to know if you have recalled batteries in your fleet and Vision-Bot makes it very easy to check several Macs across an organization.
VISION-BOT REPAIR PROGRAM VIEW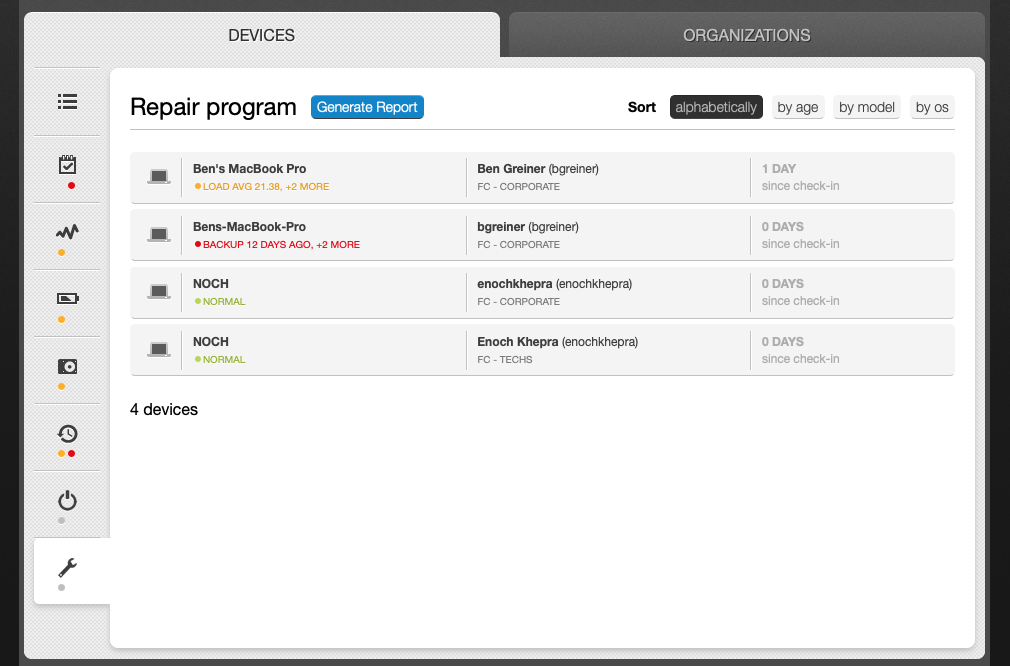 STEP 1 : Log in to Vision-Bot and from the DEVICES view select the wrench icon from the lower left column. (If you don't have a wrench icon then you don't have any faulty Macs — you're done!)
STEP 2 : Click on each Mac or click the Generate Report button to get a list view. We're only concerned with the MacBook Pro (Retina, 15-inch, Mid 2015) models.
STEP 3 : Copy and paste the Serial Number of each MacBook Pro (Retina, 15-inch, Mid 2015) model into Apple's 15-inch MacBook Pro Battery Recall Program lookup page to see if you need to get your battery replaced. (Contact us if you're a partner and need assistance.)