macOS updates keep your Mac secure
Your Mac holds sensitive personal and business data, like client details, addresses, documents, and more. Security is vital — a cyber breach could lead to data loss and system downtime, resulting in a loss of money, reputation, and productivity. Keeping your Mac up to date with the latest software is essential to your Defense in Depth protection.
Using our Apple Device Management tools, we automatically apply updates that do not require a restart. And to avoid interrupting your day, we ask that you initiate updates that do require a restart.
How To Update Your Mac
This article is about running incremental updates. Always contact us before running a macOS upgrade. (Confusing? See, The Difference Between Software Updates and Upgrades.)
When new software updates are available for your Mac, you may receive a notification from our team. The exact text of the notification will depend on what needs to update on your Mac, but the blue Update Device button will always take you where you need to go. Please note the "Days remaining" field — once this reaches zero, you will not be able to close the notification until the update is run. To avoid this, please update as soon as is convenient! You can also check for updates at any time from System Preferences.
Macs running macOS 10.14 Mojave or later will see software update prompts that look something like this:
SIMPLE MODE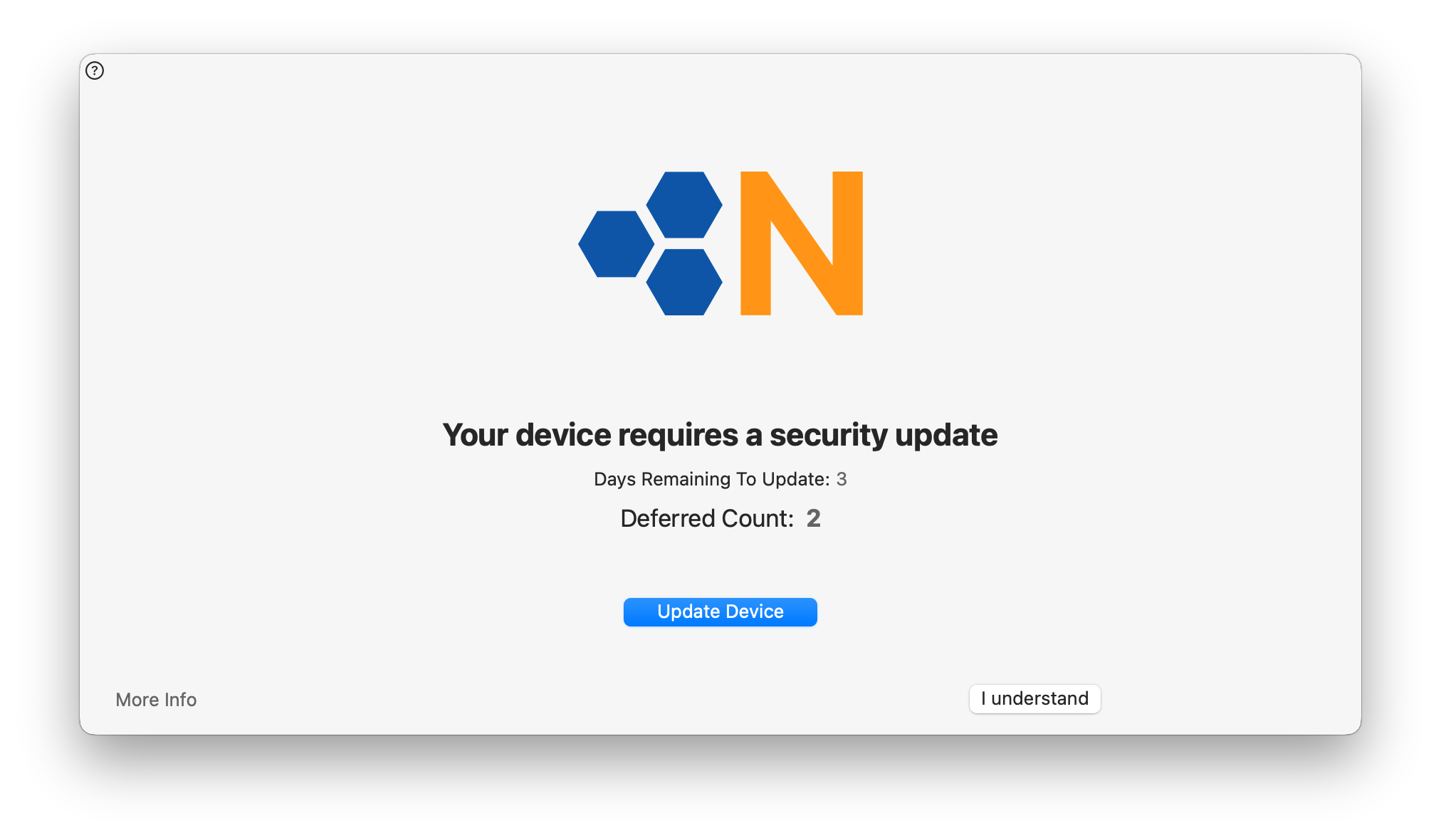 DETAILED MODE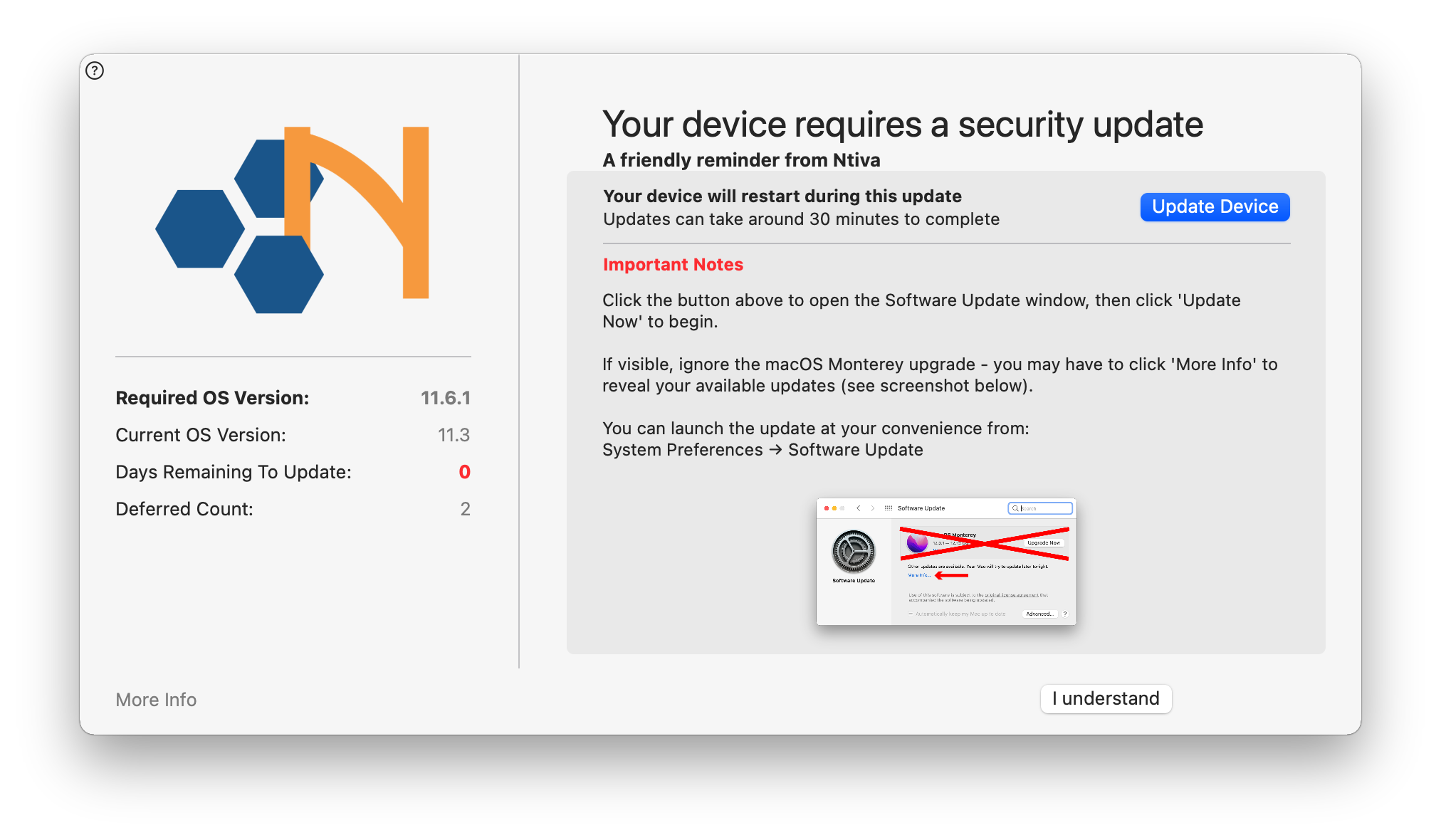 To proceed with an update, click the Update Device button to bring up System Preferences, or if now is not a good time, click Later to dismiss the notification temporarily. Upon clicking the "Update Device" button, your Mac will try to trigger the update by itself, but some action may be required from you to proceed:


In macOS Ventura and later, you may be prompted to click the More Info button:

Apple removed the ability for that button to be interacted with programmatically, so you'll need to manually click the button here, under the macOS upgrade banner:

On Apple Silicon computers, you will be asked to type in your password to proceed
On older versions of macOS, if you see a macOS Upgrade Banner, ignore it (do not click it) and instead look underneath the banner to click the lower More Info button: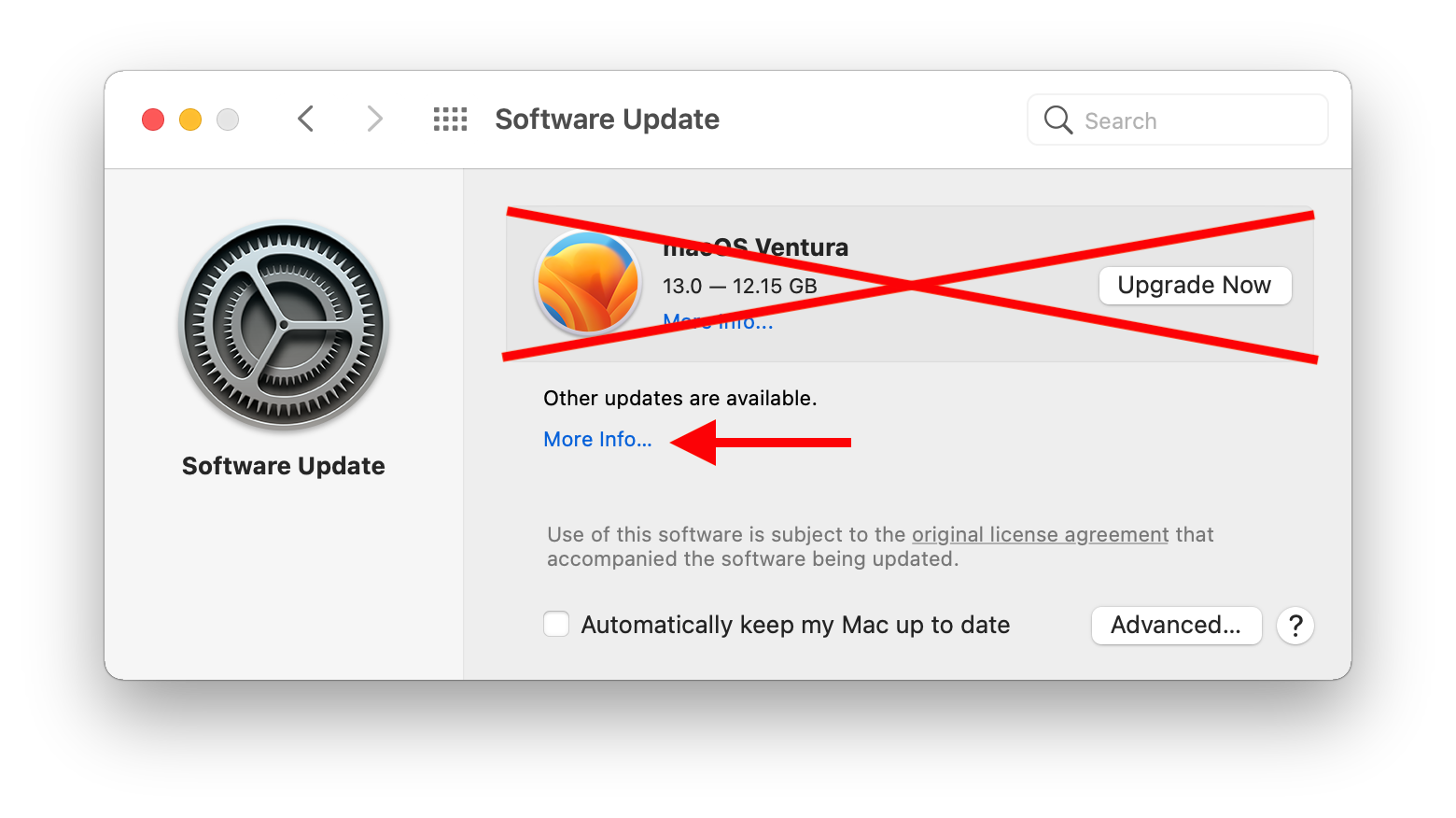 Make sure the box for the update is checked & click Install Now to begin.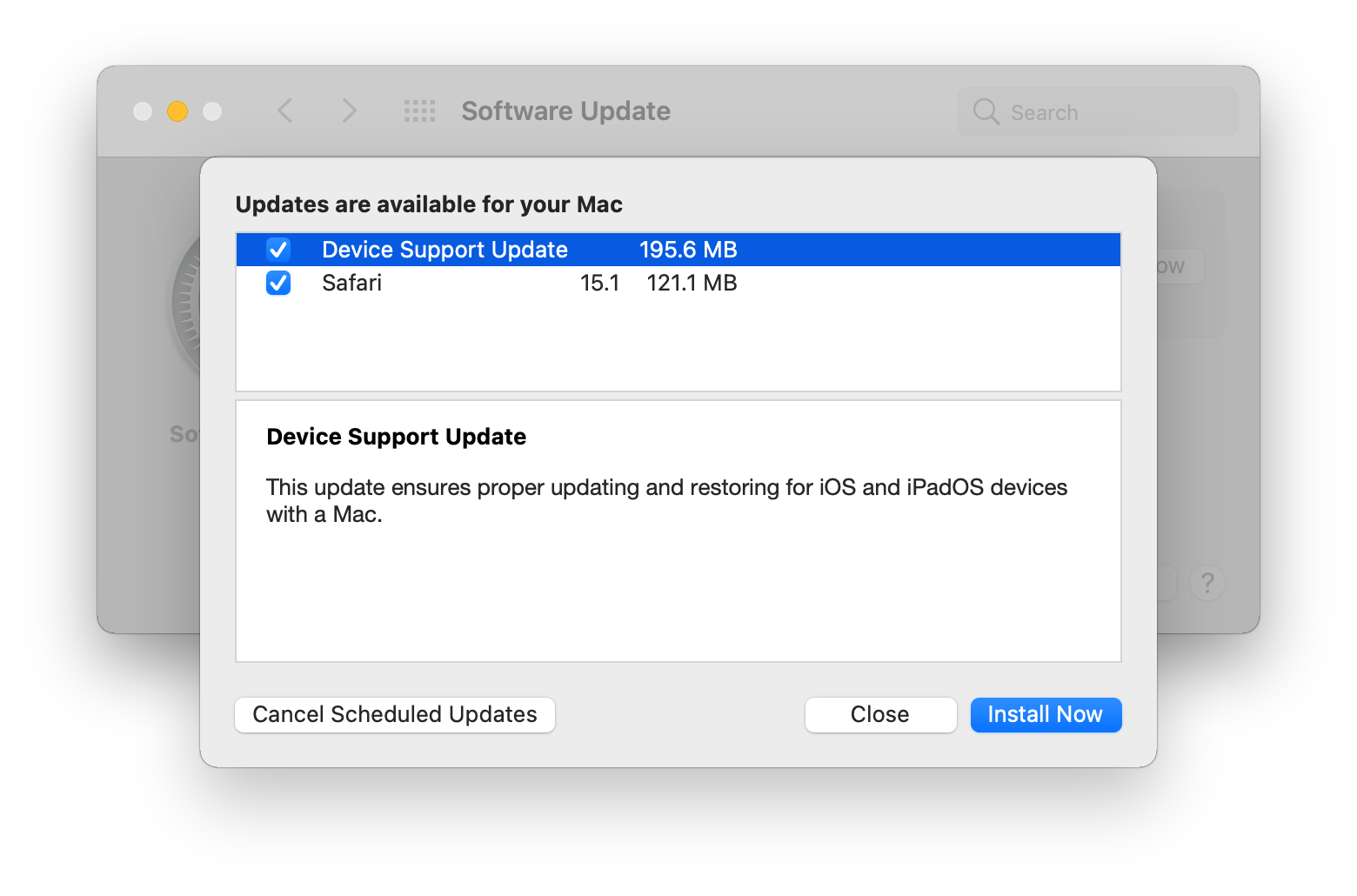 Trouble Applying Updates?
The Software Update infrastructure is unusually fragile. In certain situations, your Mac may not detect the available updates, or they may fail to run once triggered. We have developed a few fixes for this in MacManage. Here are some steps to take if you notice any unusual behavior.
I know there's an update available, but the Software Update window is stuck on Checking for updates...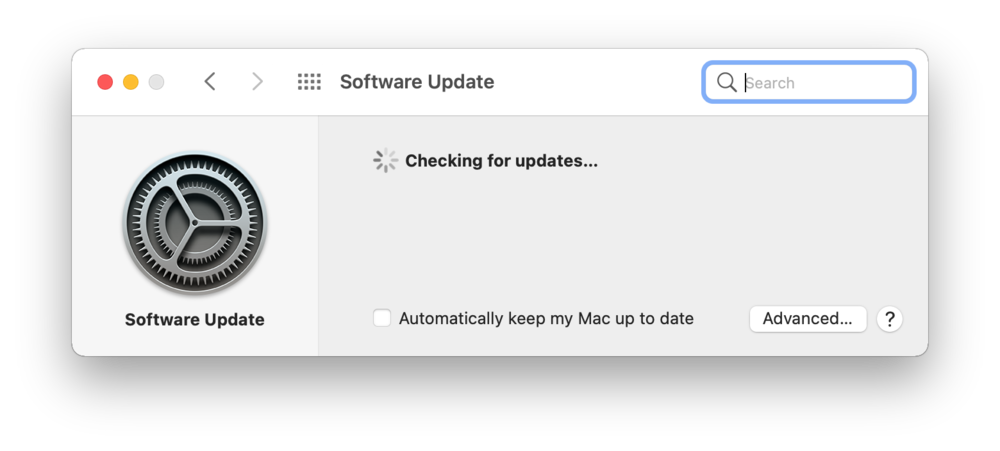 Try these fixes:
Reboot your Mac and check again


Open MacManage and search for the item "Software Update - Kickstart Process." Click the Install button, then check again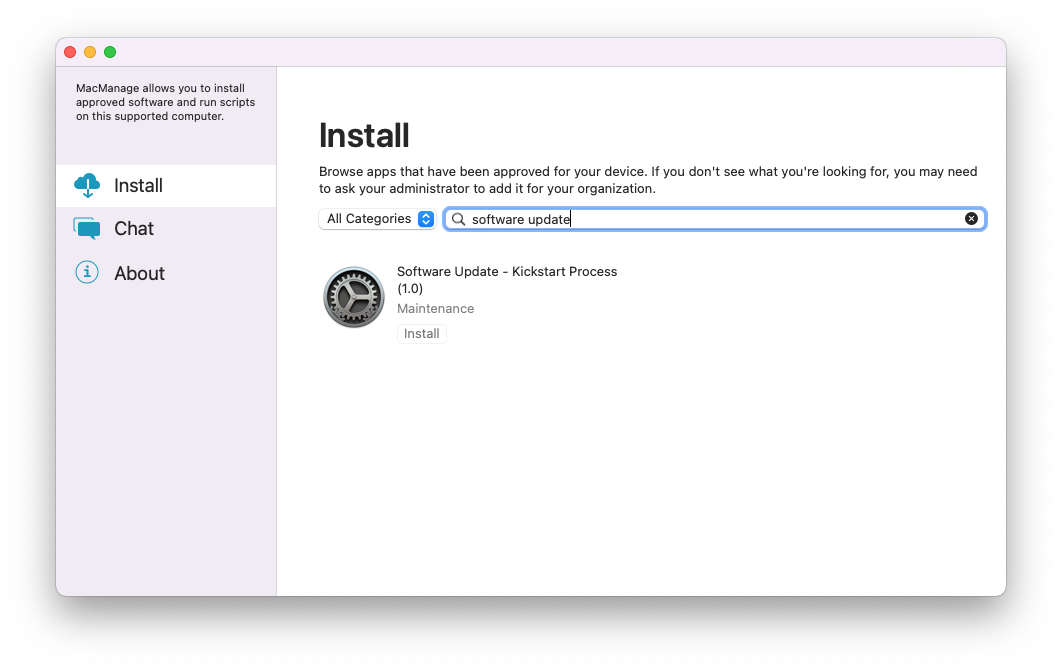 Open MacManage and search for the item called "Refresh Receipts Log." Click the Install button, then check again. If symptoms persist, reboot and check again.
I know there's an update available, but the Software Update window says I'm running the newest OS allowed by my administrator.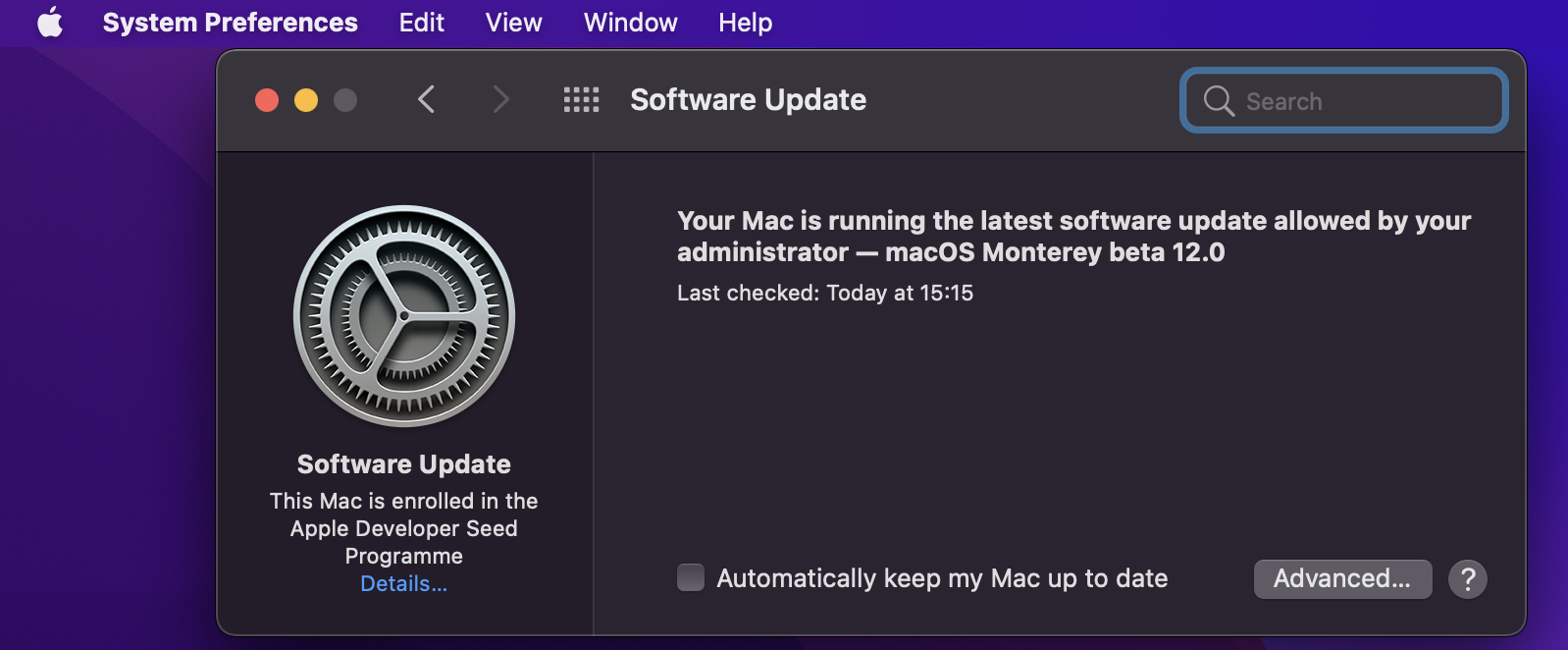 Use the same fixes listed above — Ntiva is not blocking these point updates, but your Mac can still display this message erroneously.
I've tried all these fixes, and the update still won't run.
In some circumstances, your best next step is to run the full installer for whatever operating system you're running to apply the newest patch. Open
MacManage,
search for your current operating system by name (Monterey, Ventura, etc.), and click the
Install
button. Note that this method can take up to two hours to complete.