Before we begin, I'll be transparent about what this post is and what it isn't.
This post is not about whether or not criminals, the NSA, or anyone else can access your camera without your knowledge and/or without a light that gets activated or not as a sign that it's being activated with or without your consent.
That is a controversial conversation we'll save for another time, perhaps.
This is simply some friendly tips and tricks for anyone using a privacy cover over the camera on their Mac, iPhone, or iPad.
We want to help make sure you can do this successfully, without damaging the camera lens on your device or messing up the display in some way, which is easier to do than you might think!
Still interested? Cool - read on!
Since most webcam covers for sale out there use a combo adhesive/magnet to stick to the screen around the lens of your Mac, iPhone, or iPad, it's important to know that, while they may work fine on an iPhone or iPad, these are not ideal for all Apple devices.
Here's a solution we like that uses no adhesive whatsover and fits within the specs Apple recommends. It only requires rinsing it with water from time-to-time to make it "sticky" again after removing/adjusting it --> https://www.amazon.com/gp/product/B08CPRZZJW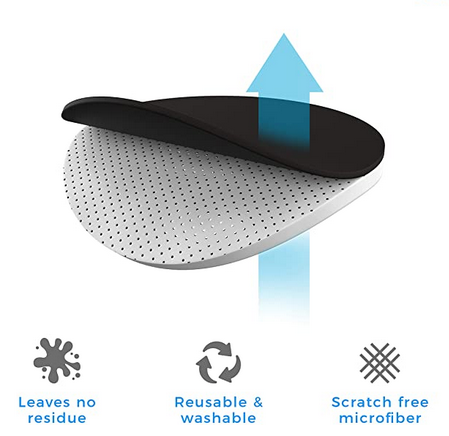 Another nice thing about this type of cover is it works well with Mac laptops. too. Apple advises that if you intend to use a camera cover to mind the following for the best experience:

Whether you choose to cover your webcam or not, remember to always check your surroundings before a video call to make sure there's nothing in frame that creates preventable risk, like passwords on sticky notes (we've seen it!), or anything like that you just wouldn't want anyone to see!