Updates to Google Chrome tend to be quiet and mundane, but we're currently navigating an unusual confluence of updates that may cause disruption. Here's what happened and what you may need to do to fix your Google Chrome.
WHAT HAPPENED
Google has recently published three updates for Chrome
Version 99.0.4844.

83


With the release of Chrome 99, the Google team needed to update their code signing certificate. This update led to an issue where updated copies of Chrome would not respect previous authorizations to allow screen sharing during browser-based meetings. This unfortunate result was an unavoidable consequence of their development team needing to renew this certificate.


Version 99.0.4844.

84


This version is an out-of-band (emergency) security release to address a discovered vulnerability (CVE-2022-1096).


Version

100

.0.4896.60
This version includes some logic that attempts to proactively reset screen recording permissions if they were previously set, avoiding a situation where permissions could appear present, but not be respected. Resetting these permissions requires users to manually approve permissions after installation.
WHAT TO LOOK FOR
Once your copy of Chrome is updated, there's a chance Chrome may ask you to give it permission to share your screen — even if you've permitted it in the past. When prompted, you can go into System Preferences > Security & Privacy > Privacy > Screen Recording and make sure Google Chrome is present in the list and is checked.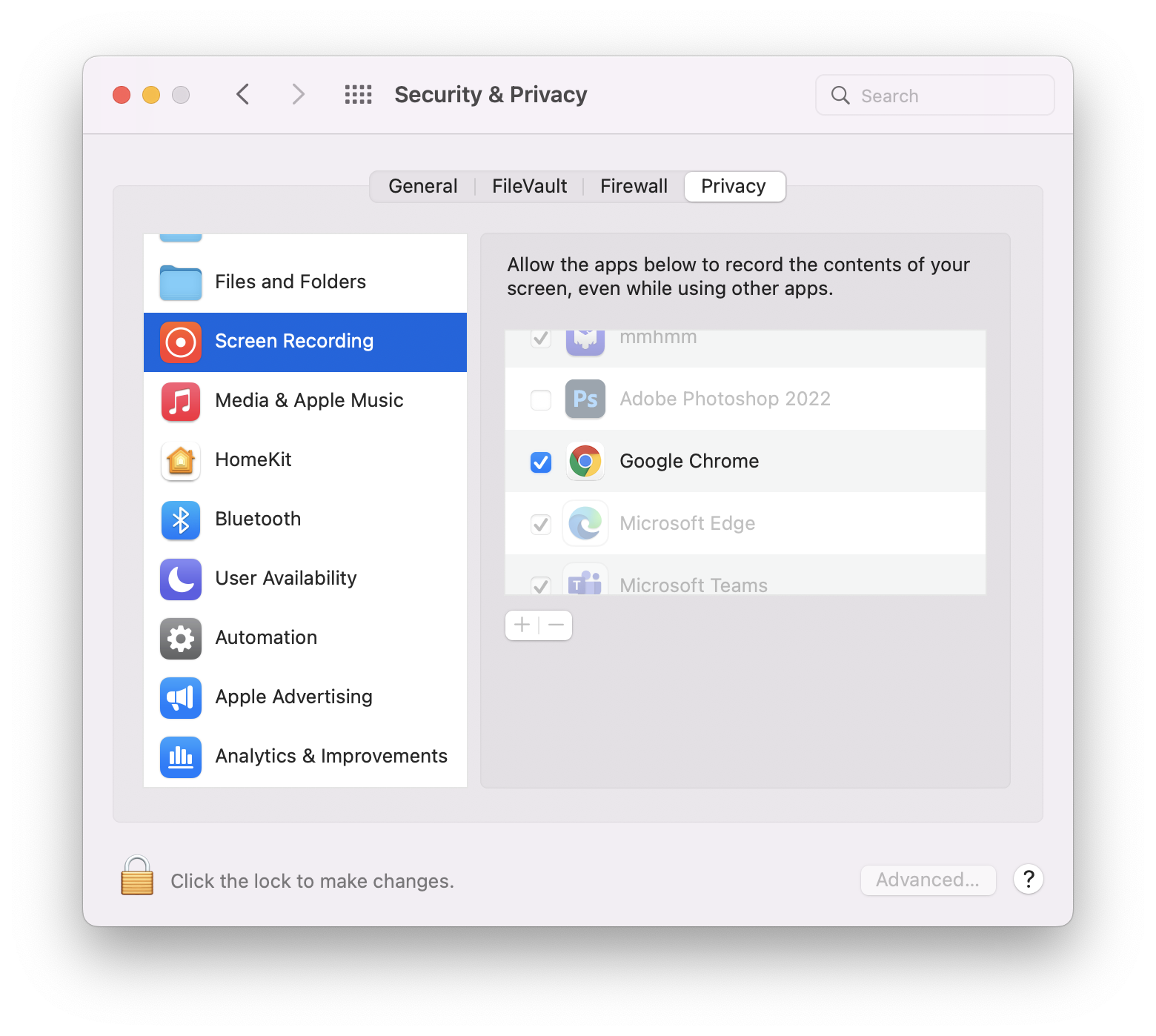 STILL NOT WORKING?
Due to the change in the signing certificate, there are edge cases where you may see Chrome in this list — it may look to be authorized — but Chrome screen sharing will not work and insist that you need to give it access. If this happens,
Launch MacManage from your Applications folder and search for the item called "Google Chrome - Reset Screen Recording Permissions."

Click the Install button for this item, make sure you've quit Chrome and System Preferences, then try the workflow again. You should be able to proceed. If problems persist, please contact us!