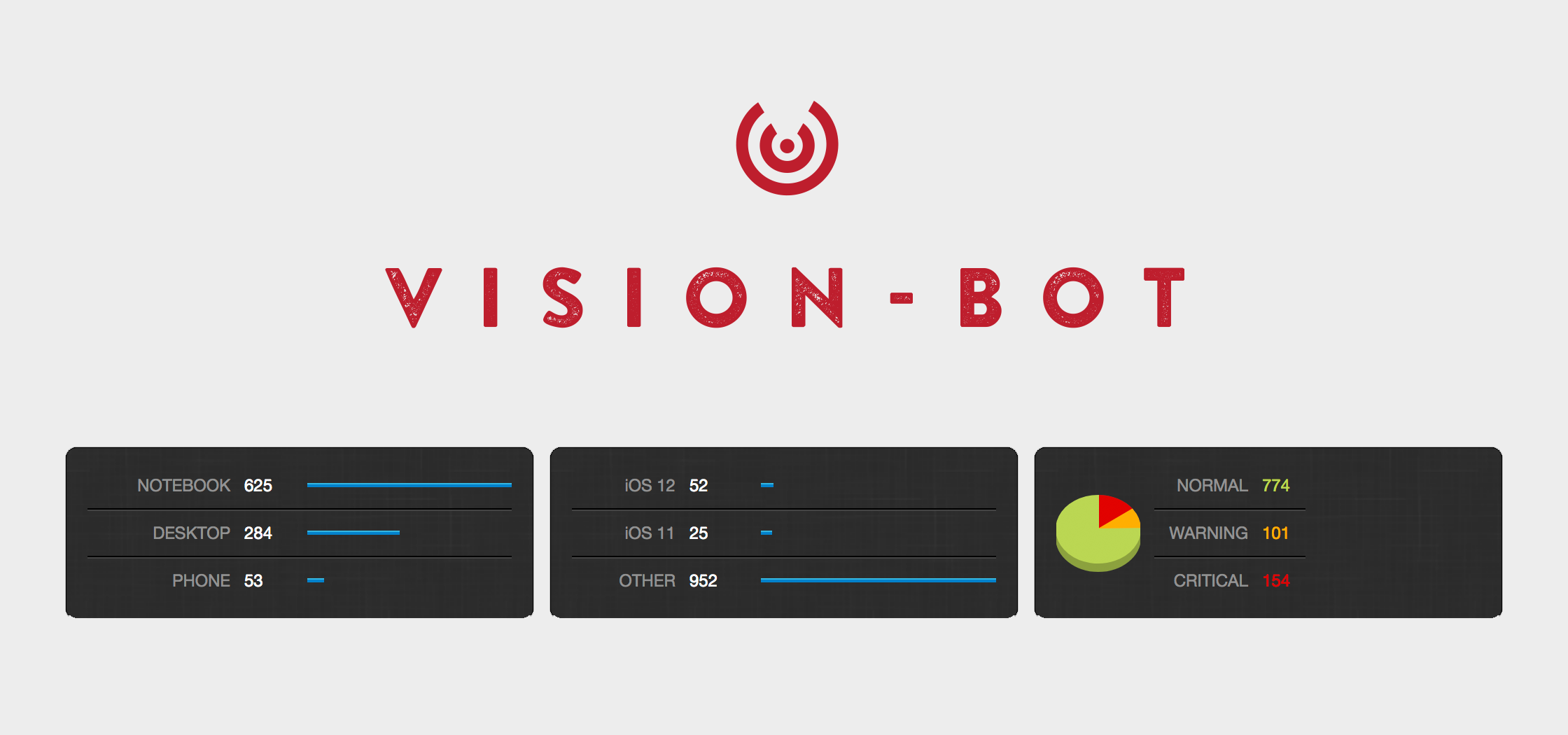 We built Vision-Bot to help us — and our clients — quickly evaluate a fleet of Apple devices. Trouble areas are prominently highlighted in orange for warnings and red for critical issues. Color coding and help menus make it easy for anyone to see where realignment may be required.
Knowing where to remediate is critical to keeping pace with increasingly complex and rapid technological changes. Our service desk references Vision-Bot to understand the hardware and software a client uses so we can solve problems faster. Our Account Managers reference this information during business reviews. Our Field and Remote Operations teams look to this information during scheduled visits.


Business Reviews
During business reviews, Account Managers run a Device Report within Vision-Bot to review the results with clients — paying particular attention to the following items.
Scheduled Visits
In addition to the items above, Field and Remote Operations run a Device Report within Vision-Bot to evaluate and address these areas during scheduled onsite and remote visits.
Security
Desired state: Encrypted
All notebooks should be Encrypted. Ask the Apple Team what to do next if they are not.


FileVault Key Escrowed
Desired state: Yes
If any Mac reports No and is Encrypted, then run the FileVault - User-driven key rotation and escrow policy from Addigy or MacManage (on the Mac). This action will create a popup for users to type in their password and escrow the key.

Backup
Desired state: Last backup within the previous 7 days
Not all locations have workstation backups, but if they do — and the Mac is checking in but not backing up as expected, then reach out to the Ntiva Apple Team for assistance.


% Full
Desired state: 80% or lower
This percentage pertains to the Boot Disk. Reach out to the user directly about this. See, Running Low on Space on Your Mac? Here's How to Clear Unnecessary Data


Software Update
Desired state: Up-to-Date
Reach out to the user directly about this. See "Nudge" Notifications of macOS Updates — and the section at the bottom of that article:

TROUBLE APPLYING UPDATES?