One-Minute Overview
30-Minute Deep Dive
Ventura - Available, But Blocked
On October 18, Apple announced they would make macOS Ventura 13 available for download on Monday, October 24. This new operating system promises to work smarter, play harder, and go further. It's a refinement of macOS 12 Monterey that, from our beta testing, should be an upgrade we will all enjoy.
However, experience tells us disruption to your end users is more than possible. The potential for disruption is why we recommend deferring macOS upgrades until an organization has tested, planned, and communicated its readiness. Contact us if you are ready to upgrade and want the block lifted.
Upgrading is easy, but if you upgrade too soon, the new version of macOS could render business-critical apps inoperable, create workflow interruptions, and have other negative consequences. Waiting too long can cause problems, too, as it's essential to stay up to date for security reasons and to take advantage of Apple's updates and fixes. Upgrading is not a question of if; it's a question of when.
Key Dates
Apple made blocking macOS Ventura more of a challenge this year. This challenge means it's even more critical for organizations to communicate to their team when to upgrade. Below are three key dates to share with your team.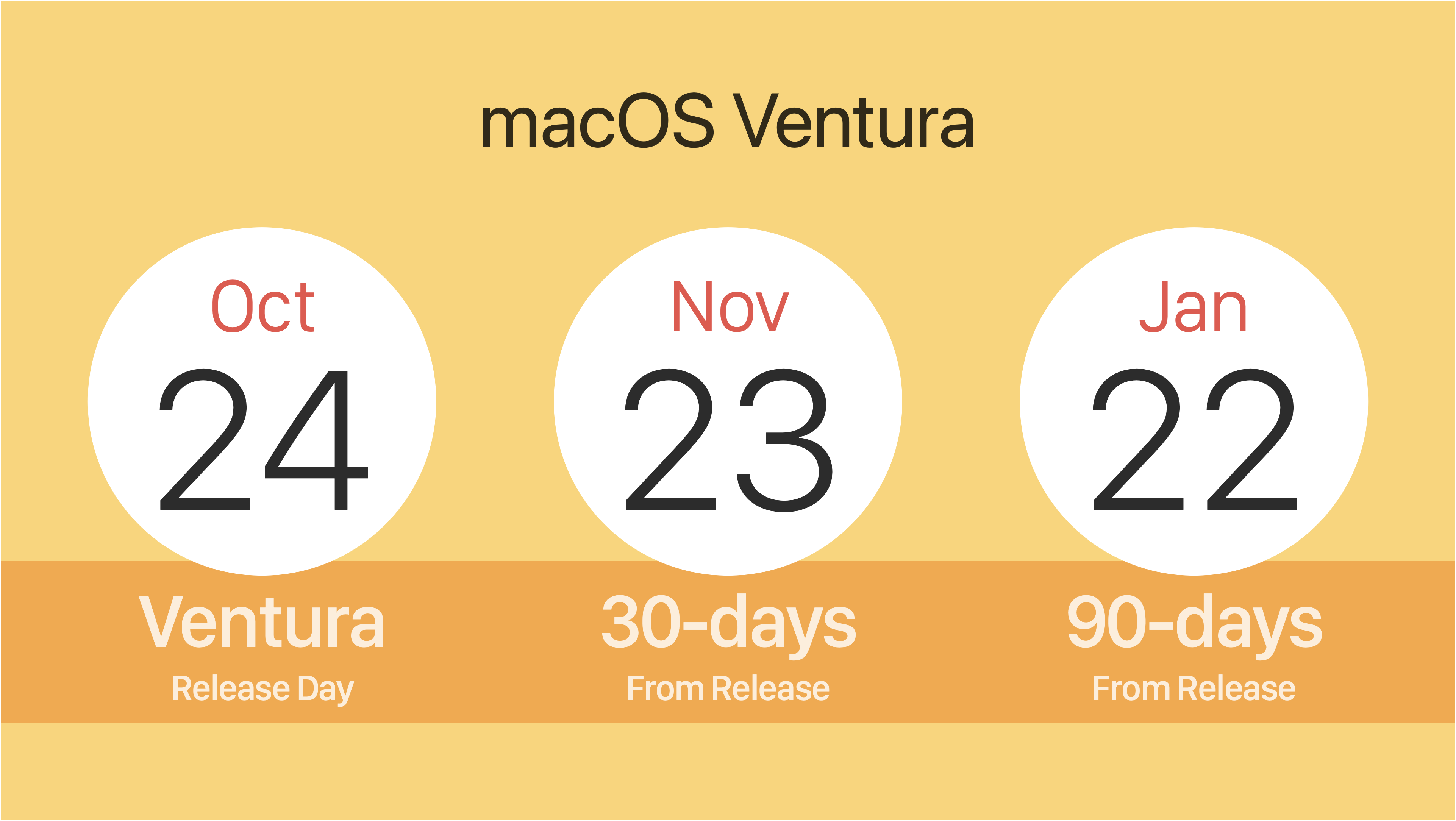 Monday, October 24
macOS Ventura's release date
Apple will promote the new operating system, and your team can download it. However, we recommend everyone not upgrade at this time. Additionally, if you are a client of Ntiva and your Macs are enrolled in our modern-day security and support system — if they are visible in Vision-Bot — then we can block the upgrade from executing, but only until November 23 (the day before Thanksgiving).
Wednesday, November 23
30 days after the release of macOS Ventura
This date is our self-imposed goal for getting all clients running the latest release of macOS Monterey (12.6.1). Getting your Macs fully patched and up-to-date will make the eventual upgrade to Ventura much smoother. You can track your team's progress using Vision-Bot.
Sunday, January 22
90 days after the release of macOS Ventura
On this day, Apple will prohibit us from blocking the upgrade to Ventura — for everyone. And it is on this day that Ntiva will support macOS Ventura fully. However, it will be supported sooner for any new Mac that ships with macOS Ventura.
Can Your Mac Upgrade?
Apple markets Ventura as smarter, requiring a more competent Mac than the old one you might be using. See the Apple support article for a complete list: macOS Ventura is compatible with these computers.
Share With Your Team
Below is an email template you can customize for your organization to share with your Mac users.
*** EMAIL TEMPLATE START ***
From: Client Primary Contact
To: Mac Users
Subject: Avoid Upgrading to macOS Ventura 13
Hi, Team,
Apple will make macOS Ventura available for download on Monday, October 24. We want to ensure this release is fully baked before we run it in our environment, so we ask that you:
Do not run the macOS Ventura upgrade.
Do apply the latest macOS Monterey updates. (Or upgrade to Monterey if you are still running an older OS.)
In preparation for upgrading to macOS Ventura early next year (or sooner), your Mac must be running the absolute latest version of macOS. The current version is macOS Monterey 12.6.1.
Thank you!
*** EMAIL TEMPLATE END ***