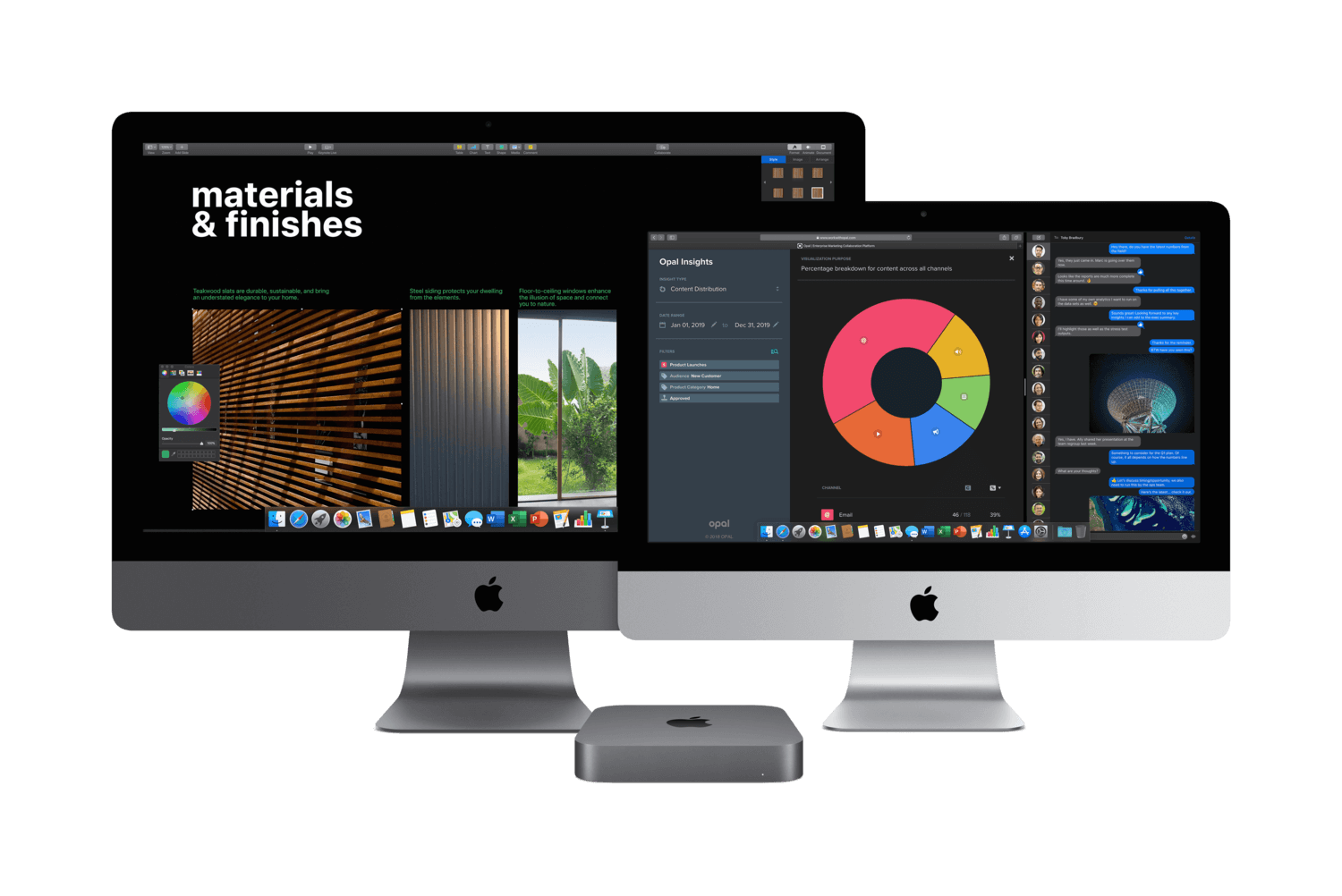 Ntiva's Apple Toolkit provides a fully managed solution that delivers Apple's mobile device management ecosystem, plus all the custom work we put into it. It's everything you need to deploy Apple devices using Zero Touch. We include Apple Toolkit with every Ntiva Signature Support Plan. We also offer Apple Toolkit as a managed service for internal IT teams who don't want end-user support but need the ongoing management, security, testing, and curation that we build into the solution — for our clients and our internal Apple users.
Apple Toolkit is a complete system for delivering the best experience to your Apple users. The goals of the system are to:
Simplify Apple device deployment, security, and management through automation and templates.
Provide up-to-date, detailed information for more accurate and informed business decisions.
Empower users to leverage technology while delivering a fantastic — and often invisible — user experience.
Apple Toolkit is not about reinventing the wheel; it's about drawing from well-tested and trusted solutions. It's about leveraging the power of automation to work smartly and efficiently, so more quality time can be spent talking with end-users and empowering them to leverage your investment in technology. It's about abundant data and practical knowledge distilled into a straightforward system unburdened by complexity.
Technology without management is chaos. You can start with Apple Toolkit today. Below is an overview of what is and is not included in Ntiva's Apple Toolkit.


INCLUDED
Apple Business Manager | business.apple.com
Apple Business Manager is a simple, web-based portal that provides a fast, streamlined way to deploy Apple devices that your organization has purchased directly from Apple or a participating Apple Authorized Reseller or carrier. With Apple Business Manager, you can automatically enroll devices in Ntiva's management solution without physically touching or preparing the devices before users get them. This automated deployment method is called Zero Touch — the easiest and most secure way to deploy Apple devices.
Apple Custom Store for Business | ecommerce.apple.com
Setting up an online store puts you in control. While we're always here to help, you're free to access your company's recommended systems and preferred buying terms whenever you want. It's the easiest way to buy for your business. Plus, all items purchased inside of ecommerce automatically work with Zero Touch. And the more you buy, the better business pricing you receive.
Apple offers weekly demonstrations of the ecommerce store to help new and existing business customers. They demonstrate how easy it is to navigate, create a quote or order, and emphasize other time-saving features in one 30-minute session. If you are interested in participating, email acnstore@apple.com and let them know. They will send you an invitation.
Vision-Bot Device Portal | vision-bot.app
Our custom device portal lets you view up-to-date enrollment status, health, security, and inventory details — including active alerts — across your entire fleet of Apple devices. It also integrates with Apple's Global Service Exchange (GSX), the system Apple uses to determine purchasing and warranty information. With Vision-Bot, you always know the age of your fleet and what devices are covered by AppleCare.
Addigy Identity | addigy.com/identity
With Addigy Identity, users can log in to their macOS devices using their organization's established identity provider (IDP) credentials — plus Multi-Factor Authentication. Addigy Identity supports Okta, Google, AzureAD, and O365. Addigy Identity is included for all new Mac deployments. We can also quote a project to point an existing fleet of previously deployed Macs to Addigy Identity.
Support Tools
SupportMenu and MacManage will get customized for your team and installed on Macs that are enrolled in our system.

Update Prompts
If your team falls behind on critical security updates, they will receive a nudge to apply updates and restart.
Automatic Patching of Existing Software
The following apps and macOS updates will get applied if applicable. These updates will not interrupt the user and will only run if the apps are already installed and outdated.
Adobe Reader
Google Chrome
Mozilla Firefox
Microsoft Office (Word, Excel, PowerPoint, Outlook, Teams, and OneDrive)
Zoom
macOS updates that do

not

require a restart
Software Library for New Installs
You can deploy many different apps to enrolled Macs. These can be deployed automatically or through MacManage, and they fall into three categories:
APPLE APPS & BOOKS

From Apple's App Store
Can be set to auto-update
We have no control over the installed version. The newest compatible build is always installed.
Requires Apple Business Manager for the client



ADDIGY PUBLIC SOFTWARE LIBRARY

Maintained and updated by Addigy
Updated versions are scoped by an Addigy administrator (not automatically)
Easy to deploy
Cannot customize



NTIVA CUSTOM SOFTWARE

From Ntiva's Software Library

(Internal Only)

Curated and tested by Ntiva
Can be customized
Takes time to vet and prepare deployment for newer versions
Ask us for a current list
Security Profiles
Our curated — and tested — Profiles for macOS provide a minimum baseline for the majority of our client's security and compliance needs:
Ntiva Exclusive Scripts
In addition to our custom device portal and our work to make SupportMenu valuable to our clients, we also build custom scripts to solve common workflow and security issues quickly. Here are a few:
Clear Font Caches
Software Update - Kickstart Process
User-driven Key Rotation and Escrow
Anything not listed above.
Custom scripting (available upon request for quoting).
End-user support: You have end-user support if your organization has a Ntiva Signature Support Plan. However, you do not have end-user support if your internal IT team has engaged Ntiva to provide the Apple Toolkit solution with no end-user support. In this situation, only designated IT contacts have access to our service desk for issues related to the Apple Toolkit solution.
Any troubleshooting beyond the ability of Apple Toolkit and Apple's mobile device management framework.
Remote device access. Ntiva's service desk can request remote device access, but this capability does not extend to the clients without additional tools or licenses.


OPTIONAL ADD-ONS
Advanced Endpoint Protection: Included with all Ntiva Signature Support Plans but optional if you exclusively subscribe to our Apple Toolkit solution.
Endpoint cloud backups.
Quoting for special projects.